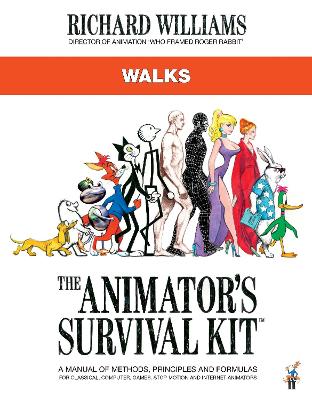 Animators Survival Kit: Walks
Richard E. Williams
Category: Art & Media: Stage & Screen
ISBN: 0-571-35841-1 EAN: 978-0-571-35841-0 Format: Paperback Pages: 75 Publisher: Faber Year: 2021 Quantity in Stock: 158
Cover price: £9.99 Sale Price:

£3.99
WALKS From Richard Williams' The Animator's Survival Kit comes key chapters in mini form. The Animator's Survival Kit is the essential tool for animators. However, sometimes you don't want to carry the hefty expanded edition around with you to your college or studio if you're working on just one aspect of it that day. The Animation Minis take some of the most essential chapters and make them available in smaller, lightweight, hand-bag/backpack size versions. Easy to carry. Easy to study. This Mini focuses on Walks. Walks are full of personality. Walks reveal the character, they tell the story of the person. In this Mini Richard Williams provides the building blocks of how to construct walks, using stick figures to make it easy to learn, copy and understand. The process will encourage you to invent and entertain.
Ask a question about this book: