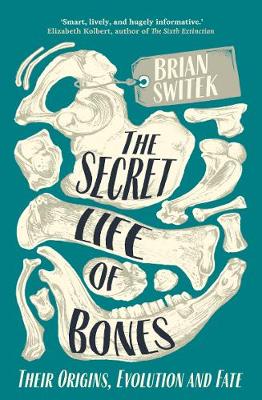 The Secret Life of Bones
Brian Switek
Category: Sciences: Science
ISBN: 0-7156-5379-2 EAN: 978-0-7156-5379-1 Format: Paperback Pages: 276 Publisher: Duckworth Year: 2019 Quantity in Stock: 20
Cover price: £9.99 Sale Price:

£3.99
Take a journey under the skin with osteological expert Brian Switek to discover the origin of the bones inside our bodies. Bone is a marvel, an adaptable and resilient building material developed over 500 million years of evolutionary history. It has manifested itself in wings, sails, horns, armor, and an even greater array of appendages since the time of its origin. In dinosaur fossils, skeletons are biological time capsules that tell us of lives we'll never see in the flesh. Inherited from a common fishy ancestor, it is the stuff that binds all of us vertebrates together into one great family. Swim, slither, stomp, fly, dig, run - all are expressions of what bones make possible. But that's hardly all. In The Secret Life of Bone, Brian Switek frames the history of our species through the importance of bone from instruments and jewellery, to objects of worship and conquest from the origins of religion through the genesis of science and up through this very day. While bone itself can reveal our individual stories, the truth very much depends on who's telling it. Our skeletons are as embedded in our culture as they are in our bodies. Switek, an enthusiastic osteological raconteur, cuts through biology, history, and culture to understand the meaning of what's inside us and what our bones tell us about who we are, where we came from and the legacies we leave behind. AUTHOR: Brian Switek is a collection of 206-some odd bones and associated soft tissues. He's the author of two books: My Beloved Brontosaurus and Written In Stone and writes for the Scientific American blog Laelaps. He has appeared on BBC R4 Today programme discussing fossils and his byline has appeared in The Times, The Spectator, National Geographic, Wired, Slate, Smithsonian, The Wall Street Journal and Nature.
Ask a question about this book: