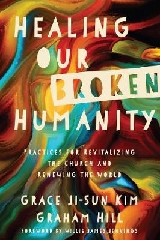 Healing Our Broken Humanity
Grace Ji-Sun Kim
Category: Humanities: Religion
ISBN: 0-8308-4541-0 EAN: 978-0-8308-4541-5 Pages: 208 Publisher: IVP Books Year: 2018 Quantity in Stock: 12
Cover price: £14.99 Sale Price:

£4.99
We live in conflicted times. We want to see justice restored because Jesus calls us to be a peacemaking and reconciling people. But how do we do this? Grace Ji-Sun Kim and Graham Hill offer ten ways to transform society, from lament and repentance to relinquishing power, reinforcing agency, and more. Embodying these practices enables us to be the new humanity in Jesus Christ.
Ask a question about this book: