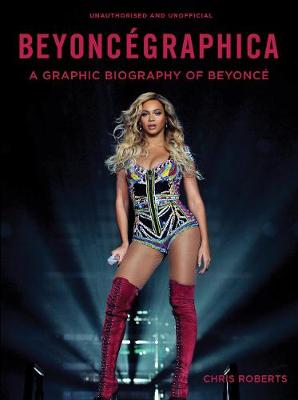 Beyoncegraphica
Chris Roberts
Category: Art & Media: Music
ISBN: 1-78131-651-1 EAN: 978-1-78131-651-1 Format: Hardback Pages: 256 Publisher: Aurum Year: 2017 Quantity in Stock: 101
Cover price: £20 Sale Price:

£3.99
BEYONCÉ needs only a one-word introduction. She is universally recognised and has a platform the world over. She is a singer, an artist, an activist and an icon. In this innovative graphic biography, Beyoncé's genius is explored and celebrated like never before, with fun infographics looking at the highlights and success of her career – as well as the all-important breakdown of some of her most popular dance routines. Beyoncé's astonishing accomplishments are also showcased against fellow legends of the industry. Drawing on her 26-year career, Chris Roberts tells the story of how a young singer from Texas transformed herself into a global superstar who came to dominate the charts. And who has come to represent so much more than the pop industry. Through philanthropy, politics and campaigning, Beyoncé has broken the mould of what it means to be a superstar.
Ask a question about this book: