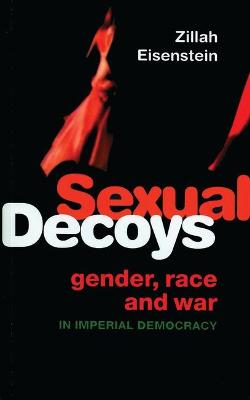 Sexual Decoys
Zillah Eisenstein
Category: General Non Fiction: Politics/Current Affairs
ISBN: 1-84277-817-X EAN: 978-1-84277-817-3 Format: Paperback Pages: 142 Publisher: Zed Books Year: 2007 Quantity in Stock: 18
Cover price: £22.99 Sale Price:

£6.99
In this book, Zillah Eisenstein continues her unforgiving indictment of neoliberal imperial politics. She charts its most recent militarist and masculinist configurations through discussions of the Afghan and Iraq wars, violations at Guantánamo and Abu Ghraib, the 2004 US Presidential election, and Hurricane Katrina. She warns that women's rights rhetoric is being manipulated, particularly by Condoleezza Rice and other women in the Bush administration, as a ploy for global dominance and a misogynistic capture of democratic discourse. However, Eisenstein also believes that the plural and diverse lives of women will lay the basis for an assault on these fascistic elements. This new politics will both confound and clarify feminisms, and reconfigure democracy across the globe.
Ask a question about this book: