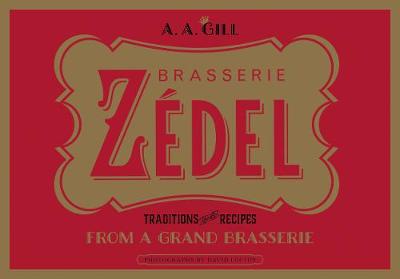 Brasserie Zédel
A. A. Gill
Category: Leisure: Food & Drink
ISBN: 1-84949-467-3 EAN: 978-1-84949-467-0 Format: HB Pages: 193 Publisher: Quadrille Year: 2016 Quantity in Stock: 64
Sale Price:

£3.99
Think 'grand café' and the image that immediately springs to mind is a decadent, smoke-filled place populated by coffee-drinking thinkers, writers and artists in 1930s Europe. Along with the brasserie, the grand café combines an opulent setting exclusively for the everyman. Zédel is such a place. Housed in a 1915 hotel off London's Piccadilly Circus, it was restored to its former grandeur and re-opened in 2012 with all the charm and distinction of Art Deco Paris. In this book, A. A. Gill explores the origins of the grand café and pays homage to the character of Zédel. Much more than just a restaurant, Zédel houses a bustling café leading to a sweeping marble staircase, at the bottom of which are the Crazy Coqs cabaret, the Bar Américan cocktail bar, and the magnificent brasserie itself. Forty iconic brasserie recipes are included in the book, such as Soupe à l'oignon, Moules marinières, Boeuf bourgignon, Profiteroles and Tarte au citron. Period photography and artwork help to capture the mood of this remarkable and fascinating venue.
Ask a question about this book: