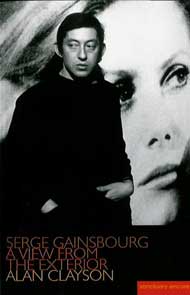 Serge Gainsbourg: A View From the Exterior
Alan Clayson
Category: Art & Media: Music
ISBN: 1-86074-646-2 EAN: 978-1-86074-646-8 Format: Paperback Pages: 245 Year: 2005 Quantity in Stock: 257
Cover price: £7.99 Sale Price:

£2.99
Serge Gainsbourg is synonymous with "Je T'Aime...Moi Non Plus" on which he and Jane Birkin simulated the sounds of sexual congress. But this 1969 UK no. 1 was but a sideshow in an impressive career as a composer, novelist, film director and actor. The first full biography in English, Alan Clayson's book reveals the entire sordid story. Gainsbourg was an inlikely pop star and an even less likely lover of icons like Birkin, Brigitte Bardot and Catherine Deneuve. But from humble beginnings he went on to write songs for Dionne Warwick and Sacha Distel. A natural at courting controversy, his outrages included a scandalous arrangement of "La Marseillaise" among songs on female masturbation, incest, Nazism, and, in 1988, a rapping ode to oral sex. He continued to be newsworthy the world over until his body's final rebellion at the age of 61, after a lifetime of violation.
Ask a question about this book: