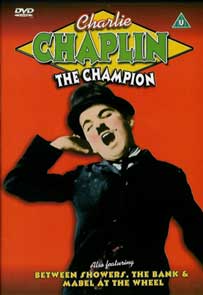 DVD: Charlie Chaplin: The Champion
Category: DVD: General
Quantity in Stock: 11
Sale Price:

£2.99 + VAT = £3.51
1915- Chaplin as a down and out is driven to a boxing career as a way of earning money to feed himself and his faithful bulldog. Boxing is a tough game for a little guy a Charlie discovers that by putting a horseshoe in one of his gloves he greatly improves his chances of winning! This tactic leads our hero, now named the 'Jersey Mosquito' to a championship fight and with the help of his trusted dog, Chaplin becomed The Chaplin. Also featuring Between Showers, The Bank and Mabel At The Wheel.
Ask a question about this book: